Once again we find ourselves half way through a season rife with ups and downs. As of writing the Wings sit at 18-19-7, good for 43 points and, surprisingly, 4th place in the Atlantic. If that sounds like we're close to a playoff berth, let me set the record straight: we are not. We are 11 points behind Toronto with only 2 games in hand, and only 1 point above both Montreal and Florida. Let's call this what it is. This is a lottery year, and the only thing we can realistically hope for over the next 41 games is that the young players continue to improve while we stay low enough to get a top 10 pick. In the meantime, here's some things I've thought about this season thus far.
Dylan Larkin Took 5 Steps Forward
If last year was 2 steps forward and 1 step back with Larkin in his sophomore slump, this season was him taking 5 straight steps forward.  Larkin seems motivated in showing that he was not just a flash in the pan his rookie season. He has firmly cemented his role as a center in this league and has put together a fantastic 200 foot playmaking game. Last season, Larkin scraped together 32 points in 80 games, this season he has 38 points already and we're only at the 44 game mark. Currently, his Points Per Game is double of last season, and he has already set a career high in assists. As a center, he's doing well in the faceoff dot with a 51.3% win rate.
But Larkin's surge this season is more than just stats. He's looking like a future Captain, the type of piece that you use to set your team up for a Stanley Cup run. He is tenacious like a dog on a chew toy in both ends of the ice, he has turned our PK into arguably a more dangerous weapon than our PP, and many nights his effort on the ice seems to be leading the team, not Zetterberg's. All in all, he is one of the most fun players on the team to watch and I hope we get to watch him for years and years to come.
Free Agents Underwhelm
Last season, the only free agent signing I truly liked was Thomas Vanek. Nielsen was competent but I'm still undecided if he is worth the contract away from Tavares, and Steve Ott was a confusingly pointless signing to top it off. This year, Ken Holland one upped that by bringing in no contracts that I truly like: Trevor Daley, David Booth, and Luke Witkowski.
Let me start with Witkowski, as I think he's the easiest to explain my complaints. He is not a good hockey player. Witkowski is a fighter/penalty earner. He's a tough guy a la John Scott, who has the bonus of being able to play forward and defense. I say bonus, but I'm lying. He's a defenseman by experience and yet after Tampa played him on forward because of injuries now he plays forward for the Red Wings. I do not agree with players like this. I firmly believe that icing a player who is out there to be a tough guy starts more fights than it stops, because they have to prove themselves to keep their job. And as it is, he has one of the worst CF% on the team at 45.5 while also producing no points and 48 penalty minutes in just 15 games. There is no one in Grand Rapids I would not rather have on the 4th line than this guy, and Ken Holland signed him to two years.
David Booth earned his one year contract in the preseason and while I don't love him over one of the kids, you need healthy scratches and mostly I'm okay with him. He's got 3 goals and 1 assist in 16 games, which is better than Witkowski at least. Not much to this one.
Trevor Daley is a contract that I like on principle. Relatively low cap hit of 3.16M for 3 years, adds a veteran presence to your blue line. Possibly trade chip. But his production has disappointing after seeing him billed as an on the rush defenseman, with only 3 goals and 4 assists, and 6 of those points have been in just the last 15 games according to Ken Daniels. He feels like a signing that was designed to push the team out of the bubble and into the playoff spot, but instead now he's taking away cap space that could be used to sign all the pending RFAs we have next season. All in all, he has been so unremarkable in every way that I can't help but wish that we had taken a chance on Joe Hicketts to start the season or something.
Jeff Blashill's Process is Making Me Pull My Hair Out
This is another tough one to see this season. As a season where you expect to perform poorly, you would also expect the young players to be given more responsibility. This is the time where they can learn through making mistakes, and they can be more well rounded the next season. It's the ideal time to give them NHL experience, when there's less on the line.
Instead, Blashill's process has mostly boiled down to blending lines and punishing the young players ice time for the slightest missteps. It took until around the New Year for Athanasiou to start getting regular time in the top 6, and we can see some of this deployment strategies in this awesome chart from Micah Blake McCurdy: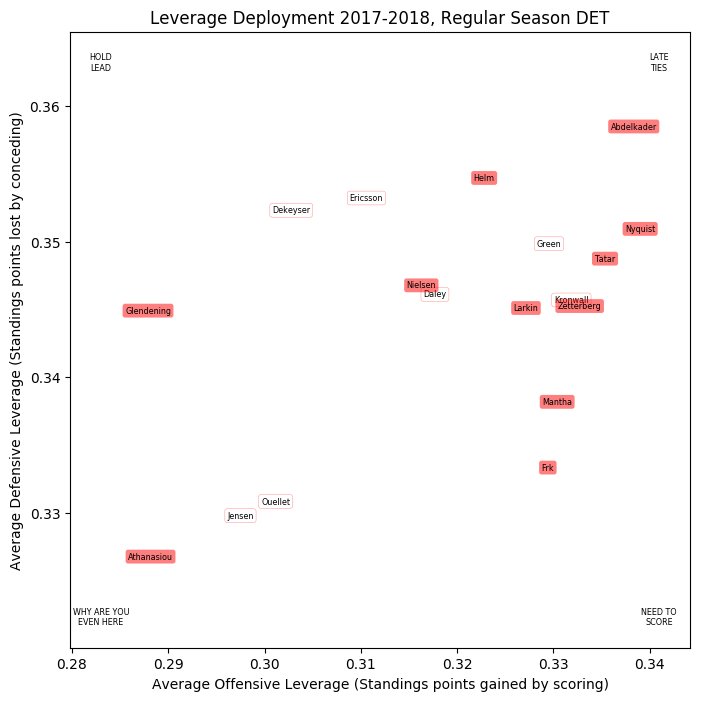 Here we can see that Athanasiou, over this season, is not getting iced when the Wings need to score or when they need to defend a lead, putting him firmly in the "why are you even on the team" section. It's frustrating as hell when we know what he can do in the offensive zone to see his leveraging closest to Jensen and Ouellet (arguably our worst defenseman and a healthy scratch respectively. Meanwhile, Abdelkader is getting shoved out there for EVERYTHING.
AA is the best example of Blashill's mysterious process because I don't understand what it's supposed to accomplish. You tell a player he has holes in his game, don't give him the ice time to improve them, and then when he does make a similar mistake again you dock him more ice time. It feels like a vicious cycle of taking away the few bright spots we have. And now that AA is moved up finally, Mantha is starting to be moved down because he's not producing like he was at the start of the season. I find it interesting that Toronto appears to be going through the exact same thing right now with Mike Babcock, former Red Wings coach (hmmmmmmmmmmmmmmm…)
There are other decisions I don't understand either. Our 3v3 OT record is terrible (I think we haven't even won more than a single game in OT, which was thanks to AA) and yet somehow we started with Nielsen instead of Larkin or AA more times than I can count. Justin Abdelkader is second on the team for average PP TOI a game. Niklas Kronwall is the second PP unit defenseman instead of Daley. Just a lot of weird line up decisions and deployment strategies that, in the end, are not adding up to wins. I don't think his coaching style works, and I don't think we're going to see a change until the end of the season, so I guess just strap in.
Bonus Mailbag Time!
Who do you realistically see as our GM and head coach next season ?

— Симо#19 (@ManxRavens19) January 17, 2018
Look I'm just a reactionary blogger with no inside track, but here's what I think happens: Ken Holland gets extended and Jeff Blashill stays.
I'M JOKING. There's probably only a 30-50% chance that happens.
Seriously though, I think that Holland probably retires and Kris Draper takes over. He's the "special assistant to the general manager" (what is this, The Office?) and I've heard rumblings that he is who some upper management would like to bring in. The Illitchs don't strike me as outside hire people, though it's hard to say now that Mr. I is gone, and Draper would fit as someone inside the org to promote. He's got the feel good story with the fans as well. Same with the head coach: if Blashill does get the boot, they may very well just grab Todd Nelson from Grand Rapids.
Now, what would I like to see?
Sergei Fedorov has expressed interest before in an NHL GM job. Bring him in as a fresh outside hire that still makes the fanbase light up when they hear his name. Hire him in the offseason and add his jersey to the rafters next season. Then, in this fantasy world, Todd McLellan gets fired this season and Fedorov scoops him up as head coach. Wings pick 1st overall and snag Dahlin and I can stop being so bitter on the internet all the time.
But yeah, I feel like a Draper/Blashill combo to start next season is fairly likely. Oh, and don't hang your hopes on Stevie coming back. There's no way he leaves the Lightning before they win a cup. It'd be like doing all the work on a school project and then letting that asshole who skipped every meetup put his name at the top.
This scenario will never happen but whatever. You have a top 2 pick. Would you trade it to a team that says they will take Abdelkader, Dekeyser, and Helm off your hands?

— Cameron (@AthanasiouLater) January 18, 2018
God, this is Vollman's Trade Matthews piece all over again. Let me break down what we have here as an asset:
Dahlin or Svechnikov/Zadina (whoever you think is #2, I'm torn on the two)
And giving up we have the follow contract's cap hit
Abdelkader for $4.25M until 22-23
Dekeyser for $5M until 21-22
Helm for $3.85M until 20-21
Total value of $13.1M/year coming off the cap right now.
At a certain point, you have to agree to a deal because it would be stupid not too. Even the Oilers would be stupid not to trade us McDavid if we offered them Larkin, Mantha, Athanasiou, and our next 5 first round picks. So the shrewd businessman in me says yes, you gotta give up that pick in order to give yourself cap space. And that's a lot of cap space. That puts you in the market for some serious Free Agents. Karlsson/Doughty free agents. Cap space is power. Couple that with the fact that we'd be losing 3 highly overpaid players that are clogging our roster up right now, and it's kind of a no brainer to accept this trade.
More realistically would be perhaps one of those players getting taken off the book by a team looking to trade up. That's a hypothetical where I would be more likely to hang on to it. For example, if the Wings won the draft lottery and moved into the top 2, or even the top 3, and Arizona offered to pull us back to 4-8th in exchange for Abdelkader, I'm not sure I'd take it. His contract is bad, but there's a lot of money coming off the books in the next 3 years and not a lot of standout prospects to restock the team. Nyquist, Zetterberg, Kronwall, and Green are all probably gone in some way over the next 1-3 years. If I can replace one of them with Svechnikov/Zadina or Dahlin, I think I'd suffer through having Abdelkader signed until the sun burns out.
Thanks for the question Cameron, and for reminding me that I should stick to NHL GM mode because trades are hard. (If you haven't, check out Cameron's work for Wings Nation. They are all great reads.)
So that's it for the first half of the season. Let me know what you thought were the big storylines.