Janmark it down as an L? Get it? Because he scored the game winner?
What is wrong with me? This is not the way to get a job writing NHL headlines. I shouldn't have used "Seeing Stars" right off the bat last season. You save that one for the one you can't thing of a title for. Stupid!
The Good
Well this was a closer game than I expected it to be I'll tell you that. Surprised that we weren't shut out 5-0 the way we played. Thankfully it was only 4-2, thanks to a few good plays by our offense. Yes I know it's the good section, but backhanded compliments are still technically compliments.
Justin Abdelkader gets his first of the season on a beautiful backdoor play from who else but our captain Henrik Zetterberg and noted cat owner Mike Green.
(Hey streamables are back tonight thanks to reddit user bmac39 he's awesome)
Mike Green had another assist on Mantha's goal later when the team finally got the lead out of their pants.
That assist puts Mike Green at 2nd in the league for assists if my calculations are correct. And that's good. Because he's either going to play us into the playoffs or playing himself into getting traded for a 1st round pick at the deadline.
Honestly, apart from Mantha continuing to produce and Larkin looking a lot better from a playmaking standpoint, this was a pretty bad game. I'm just glad I didn't have to pull the "nothing" card in this section on the third game of the season.
The Bad
We were terrible on faceoffs. NHL lists it as 58/42 in Dallas's favor but it seemed so much worse than that. You cannot drive play without having the puck and it's hard to get the puck when you lose it every time there's a stop in play. We had almost a full 3 minutes of 6v5 with the empty net where we weren't really dangerous because we had to dig the puck out of the corner after each icing faceoff.
Mrazek…c'mon buddy. I really want to be in your corner but then you do stuff like THIS
That is such a soft goal!
He wasn't terrible over the whole game. There were some good sequences, especially on the PK. It's just tough to watch when we have a bad defense we need our goalies to be rock solid. Bad defense and our goalie lets in a weak one approximately once a game, and we are going to have a terrible season. Which we knew, because we won two games on luck and chutzpah as opposed to good hockey fundamentals.
Our defense was terrible but at least Ericsson didn't cause the game tying goal with a bone headed play this time.
The WTF?
Blashill why did you throw Abby on the FML line for Frk after like one shift? I know you changed it back up after a while because Frk's ice time climbed back up but why would you start blending those line already. What could you have seen in that first 2 minutes of play? Every time I try to give you the benefit of the doubt you do stuff that makes me question it.
And make terrible photoshops like this: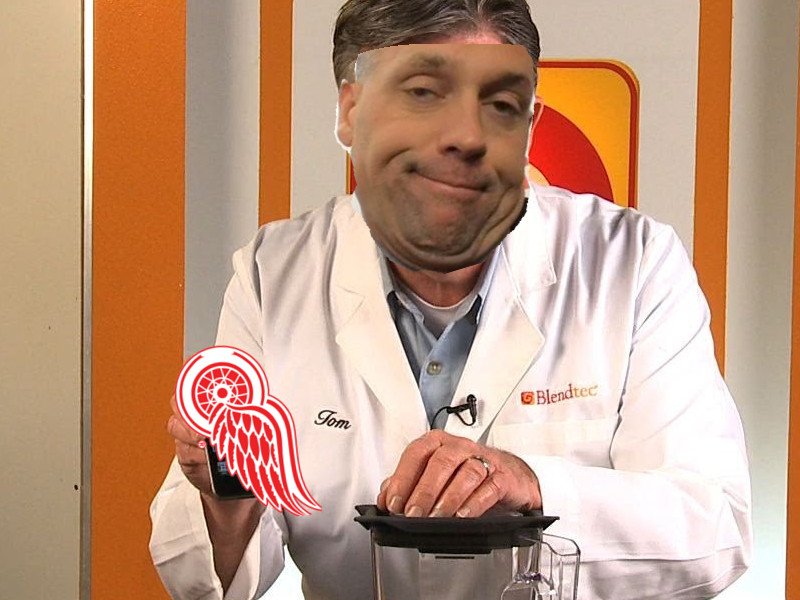 This is your fault Jeff. Your fault.
Next Game
Detroit plays the Coyotes on Thursday, continuing the road trip. If we can't beat them, then I'll howl in frustration.