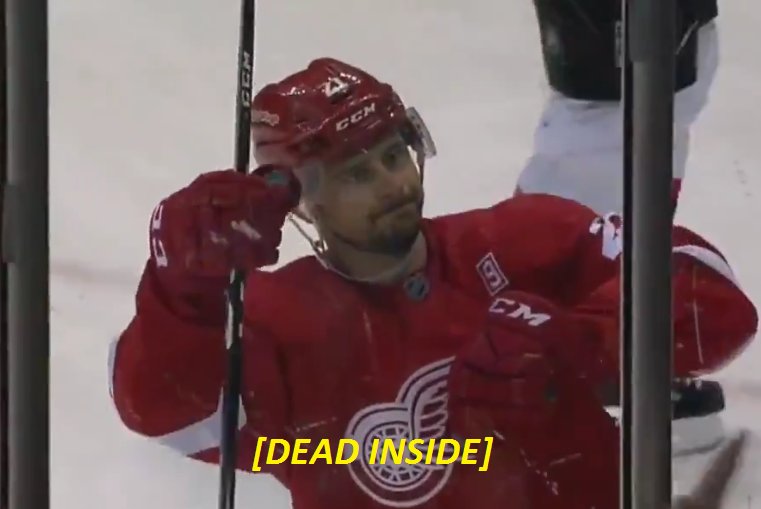 It's not enough to play bad. It's not enough to lose. Oh no, the Red Wings have to make me HOPE. They have to make me think they can pull out the W with a third period rally. They gotta get so close that I think "Maybe…"
AND THEN THEY PUT SHEAHAN OUT ON THE 6 ON 4!
The Good
Third period was strong. Decent offense, I thought they showed some solid pressure, outshot the Devils. Tatar's powerplay goal was pretty good, his absolutely soulless celly was even better.
(Tonight's streamables come from /u/HailTheBan on reddit)
The other thing I was happy about was that we actually got a couple fortunate bounces. Both Zetterberg's and Jensen's goals were pretty lucky bounces that honestly the Wings have simply not been getting. It's been brutal watching players like Sheahan fail to score on great scoring chances that just cannot bounce the right way. It's awful.
Jensen's goal was his first, by the way, so congratulations to him. He's really turned my opinion on him around, to the point where I think I like him almost as much as Ouellet. I prefer both of them over Marchenko, for sure. Depth chart in my opinion should go Ouellet > Jensen > Sproul > Marchenko.
Z's goal:
Jensen's goal:
The Bad
Well we gave up the first goal on the first shot again. Oh and it took greater than 5 minutes to score a goal. And like 4 times the puck bounced over a defenseman's stick to prevent them from getting a scoring chance because all they did was pass the goddamn puck in the offensive zone instead of shooting it. DDK and Kronwall looked below average again, maybe because there's only 3 knees between the two of them.
AA got 0 PP TOI tonight. What the actual fuck? Why would you not put a player as hot as he has been lately on ice, especially when you're trailing because you couldn't start the fuck on time? It's mind blowing, and there's more to this that I'll cover in the WTF section further down.
Coreau's game was brutal. I mean, I can only think of one of the goals as really being his fault, but man he needed to stop that third goal by Kyle Palmieri. It killed the game too, coming just 33 seconds after Zetterberg got us within one. And I know that he's only lost 2 games in regulation and he's built like, as Role Models says, "a brick shithouse" but do people really, truly, want him over Mrazek as our protected goalie? It's asinine to think that he's a magical future star goaltender because Mrazek has one bad season when the team as a whole is playing shitty. I feel like I typed this already but I still see this shit being bandied around and started Coreau after the break speaks to management leaning that way too. Am I going insane?
The WTF?
Me: This powerplay cannot get any worse.
Detroit Red Wings: Hold my beer
Can you believe, that even with scoring another goal on it, that our Powerplay was -1 tonight? THEY GAVE UP TWO SHORT HANDED GOALS. This Powerplay officially, statistically, hurts this team more than it helps it. It's absolutely disgraceful. They had a 5 on 3 in the 2nd, I believe, where they didn't get a shot on goal. NO SHOTS ON THE 5 ON 3. How does that happen? I don't understand. It didn't even look like they had good chances. They can't set up in the zone even though they pass a billion times.
Oh but Mr. The Wheelhouse, that is bad but it's on the players, not the coach. 
REALLY!? DOWN BY ONE AND YOU PUT GOALLESS RILEY SHEAHAN OUT OVER ANDREAS ATHANASIOU? Are you fucking kidding me right now?
Look we are approaching the worst powerplay since the 50s. In case you weren't aware, that's a really long time. I think it's like ~10%. And Blashill has the audacity to stand up post game and say "It's fact that it doesn't work and we don't start on time" but then when asked what the cause is he says "If I knew it'd be fixed." HOW ABOUT THE FACT THAT YOU BARELY PUT YOUR PLAYERS IN POSITION TO SUCCEED? You are anchoring our players with dead weight in the form of Glendening and Abby and Ott and Miller and Kronwall. Something needs to change.
If I'd fucked up my job this bad, I'd be fired by now. All I'm saying.
Next Game
Friday vs Islanders. Watch if you are a diehard fan, or if you like to watch the young players, or you decided to start a blog and talk about games, or find something. But if you're watching to see good hockey, to see wins, I don't know that you can even find it anymore.